April 17 - May 2
Der var en gang en snes kunstnere - nogle fra Amerika, nogle fra Europa og nogle fra Asien. De forstod sig alle på at skabe fantastiske kunstværker fyldt med farver, perspektiver og spændende historier. De kendte ikke hinanden, men pludselig en dag, fik de udover deres imponerende kunstneriske egenskaber endnu en ting til fælles – en invitation til København.
Vi har nu i lige præcis fem år arbejdet med og præsenteret kunstnere fra nær og i den grad fra fjern. Først og fremmest fordi vi ønsker at vise det bedste af det bedste uafhængigt af geografi. Dernæst fordi vi simpelthen ikke kan kæmpe imod den stærke tiltrækningskraft, vi mærker til den internationale kunstscene særligt i New York.
I hjørnet af Københavns Kødby har Gallery Poulsen i en række år taget verden ind, men har vi også haft mulighed for at sende "Københavnerfortolkningen" tilbage til lige præcis dér, hvor det hele begyndte, hvilket vi gjorde i april måned med udstillingen "The Copenhagen Interpretation" i The Lodge Gallery på Lower East Side.
I skal selvfølgelig ikke snydes for denne fantastiske udstilling herhjemme, så nu åbner vi udstillingen "The Copenhagen Interpretation Vol. 2", som viser et udvalg af de samme kunstnere, som New York fik at se. "Københavnerfortolkningen", der er blevet knyttet til den danske fysiker Niels Bohrs teorier om atomers opbygning, rummer udover sin banebrydende måde at beskrive kvantefysik på, også en stor portion stædighed, nørderi og innovation. Og det er netop de tre begreber, der er udstillingens og galleriets stærkeste mursten.
Vi viser et hold kunstnere, der uden slinger i valsen fører os fra logik til følelser på sansernes ellers så trafikkerede motorvej. Det talte sprog kan her synes som en bremseklods, mens det visuelle sprog udtrykker sig klart og tydeligt. Vi mødes af utallige finurlige historier, dybe perspektiver og ikke mindst en overordentlig seriøs tilgang til håndværket.
Hvad end det gælder tegning, fotografi, maleri eller kollage er alt bearbejdet ned til mindste detalje. De forskellige traditionelle mediers potentialer er blevet kigget så grundigt efter i sømmene, at helt nye udtryk opstår på hver deres særegne måde.
Så nu er en bid af New York endnu en gang blevet bragt til Danmark, og vi er rigtig glade for at kunne præsentere vores Københavnerfortolkning i sin bredeste forstand, der som sagt altid består af stædighed, nørderi og innovation – partout!
Udstillingen består af en række værker i forskellige medier: tegning, maleri, kollage og fotografi.
---
Once upon a time there was a dozen artists – some from America, some from Europe and some from Asia. They all perfectly understood how to create fantastic art works filled with colors, perspectives and interesting stories. They didn't know each other, but one day something connected them together more than their talent and vision already had… an invitation to Copenhagen.
Exactly five years ago we started putting together a team of talented artists. Some from Near, but many from Far. In the search for the best, geography knew no bounds, and we found ourselves drawn to the glowing center of the contemporary art scene, New York City.
In the corner of our meatpacking district in Copenhagen, Gallery Poulsen has taken that world in but we have recently had the opportunity to send our "The Copenhagen Interpretation" back to where it all began, which we did in April with the show "The Copenhagen Interpretation" at The Lodge Gallery in Lower East Side, Manhattan.
Of course we don't want you to miss this amazing show so now we present " The Copenhagen Interpretation Vol. 2" in Copenhagen, where we show a selection of the same artists, that New York saw. "The Copenhagen Interpretation", which has been linked to the Danish physicist Niels Bohr's theories about the structure of atoms, contains in addition to its groundbreaking way of describing quantum physics also a great deal of persistence, geekiness and innovation. And that is precisely the three concepts which constitutes the strongest bricks of this show and the gallery in general.
We show a coherent and very strong team of artists that, without a hitch, leads us from logic to emotion on the otherwise very trafficked highway of the senses. The spoken language here feels superfluous and clumsy. On the contrary, the visual is the clearest form of expression. We are met by countless ingenious stories, rich perspectives and an extraordinarily serious approach to the craft.
Whether it comes to drawing, photography, painting or collage everything is worked through in total single detail. The various traditional media's potentials have been examined so consistently that entirely new expressions occur in their own characteristic ways.
Once again a part of New York has been brought to Denmark and we are really pleased to present our Copenhagen Interpretation in its broadest sense, which always consists of persistence, geekiness and innovation – partout!
The show consists of a number of works in different media: drawing, painting, collage and photography.
---
"The Copenhagen Interpretation Vol. 2"
Featuring: Daniel Davidson (US), Debra Hampton (US), Isaac Arvold (US), Jade Townsend (US), John Jacobsmeyer (US), Rainer Hosch (AUT/US), Tom Sanford (US) og Nadia Plesner (DK)
17.04 – 02.05
Opening reception Friday April 17th from 5-7 pm
---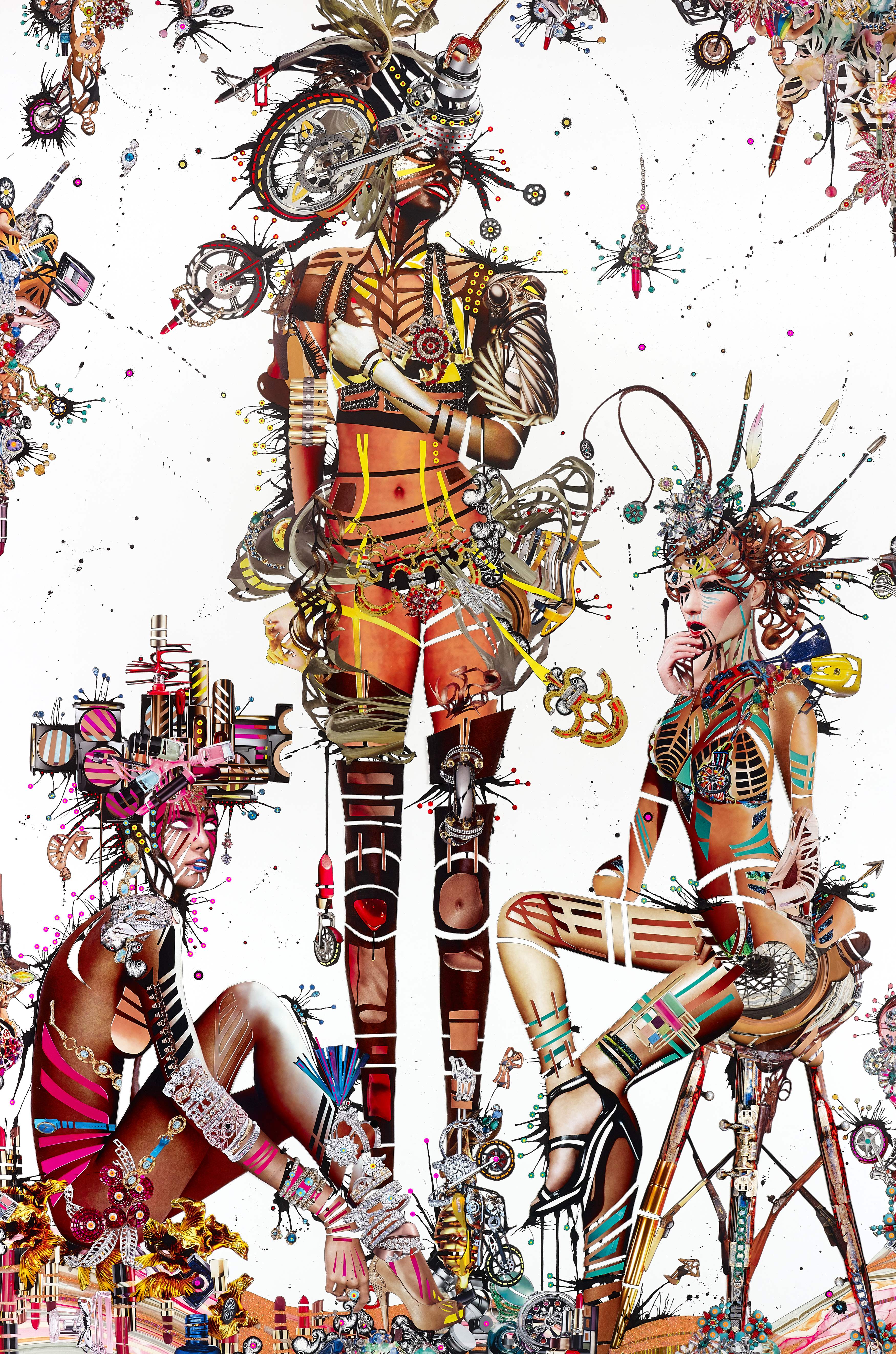 Debra Hampton: "Moments of Inertia" 2014, magazine cut out, archival prints, acrylic paint, contact paper, adhesive, ink, and paper mounted on panel with varnish 182 x 122 cm, 72" x 48"