With the summer group show "HEAT" up and running after a great and successful opening last Friday, we encourage you to stop by to see the spectacular show until Saturday July 5th. We kicked of the show with the presence of the artists Jean-Pierre Roy, Barnaby Whitfield and Jacob Dahlstrup, which made it an extraordinary and personal celebration. Special thanks to all artists who participated and for the amazing crowd!
---
Pop-Up in Aarhus
Gallery Poulsen is always looking for new adventures, so when the opportunity to arrange a new pop-up show in Århus appeared, we did not hesitate to participate. This project is launched by Golfillo - an art association of young artists – who provide a great and newly opened large space at Kystvejen in Århus, Jutland.
We can't wait to bring a very fine selection of the gallery's artists to the The Capital of Jutland in this amazing venue, situated in the vibrant center of the city Aarhus close to the creative vibe of Mejlgade, the exclusive residences at the waterfront and in the new and still growing innovative harbor area. The show will include works of Leonard Cohen, Jacob Dahlstrup, Debra Hampton, Aaron Johnson, Christian Rex van Minnen, Tom Sanford, Alfred Steiner and Jade Townsend.
The show opens with a preview event Thursday June 26th from 7 to 9pm. Contact the gallery for more information +45 3333 9396 / [email protected]
---
Isaac Arvold (US)
"Theses Hands are Monsters" - The way we look at ourselves and the world around us
15.08 - 20.09
"From the moment we are born we discover our extremities. We learn how to crawl, explore and create. Through this tactile experience, we learn to feel both emotionally and physically. Our hands, our vehicle of the mind, allow us to show love and hate within one swift act, sometimes before we even know it. Almost as if they have a mind of their own. Like a magical creature connected to the stubs of our heart. We live by our choices and are only left making more choices while our hands endure every season until we find our resting place. We wander through this world wondering if we will ever leave a mark or have our journey be turned into a tale or myth. Our hands, these hands, are monsters"
Isaac Arvold, June 2014
---
Recent press:

Jacob Dahlstrup was by the The Culture Trip mentioned as one out of the ten most important artists on the Danish art scene in the company of Jesper Just and Olafur Eliasson. Read the article.
Christian Rex van Minnen's works from Glazed and Confused is featured in a portrait in the latest issue of the Danish art magazine Magasinet Kunst.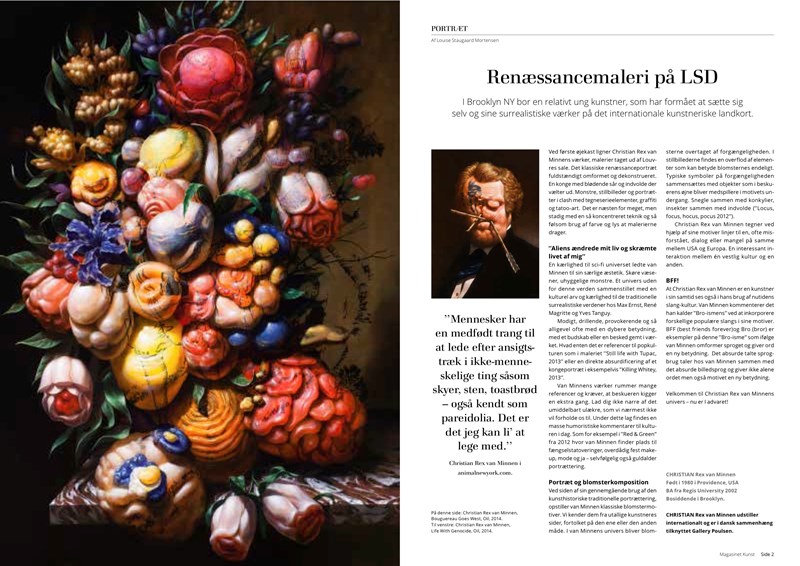 Christian Rex van Minnen also has an interview in the latest printed issue of NYC-based The Wild Magazine, "The WTF Issue". Read the online interview.
Eric White's monograph of his work will be published by Rizzoli. Coming out fall 2015.
---
Gallery Poulsen artists around the world:

Jacob Dahlstrup, Tom Sanford: "Django". Galleri Franz Pedersen, Horsens, Jutland. Showing throughout June.
Jacob Dahlstrup: "Tattoo". Brandts Art Museum, Odense, Funen. Showing this summer.
Jacob Dahlstrup: "Vanitas". Kunstbygningen i Vrå, Jutland. Showing this summer.
Aaron Johnson; Barnaby Whitfield: "Burning Bright: Tiger, Tiger". Stux Gallery, NYC. The exhibition is themed around the poem by William Blake including historical works by Yves Klein alongside contemporary artists. Showing the summer.
Jade Townsend; William Powhida: "The New New Berlin". The Galveston Artist Residency in Texas. Opening August.
Eric White. Solo show. Antonio Colombo Arte Contemporanea Gallery in Milan. Opening this fall.
A new print of his work "The French Connection" is currently available at the Gallery Poulsen summer group show HEAT.